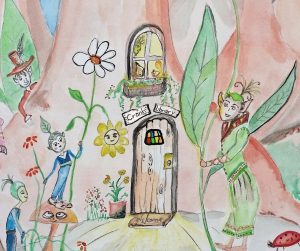 There's lots of fun counting with Cranks. Yes, it's time to get your feet moving or your wheelchair grooving. It's time to catch all those maple leaves that are full of children's wishes! In the autumn, when the leaves begin to fall, the most beautiful leaves are from the Maple Tree.
In Natasha's Wood there are wonderfully funny little creatures called Cranks! They'll find every leaf that drops from their magical tree. All the leaves are as big as dishes – and each leaf is full of children's wishes!
Keep counting Cranks as they burst out from their library door. Their library bags are full of leaves! Each leaf is full of dreams!
Come on! Let's count all those funny Cranks as they catch all those great big leaves!
One Crank. Two Cranks. Three Cranks. Four! I see a Crank behind the library door! I see a Crank by the tree. I see a Crank with big shoes! I see a Crank giggling and having fun!
This Art Campaign is not yet open.

If you would like to submit artwork for the next campaign: Natasha's Wood and I am Dragon